The Harbour Guest House
is situated in Bidford-on-Avon near to the heart of the Shakespeare country , it is positioned just 6 miles downstream from Stratford-upon-Avon and 4 miles from Alcester and 6 miles from Evesham.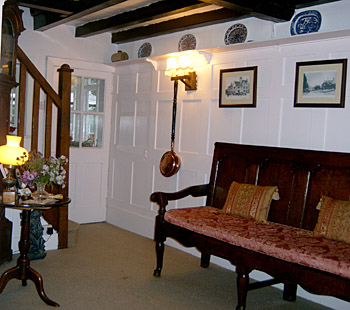 Bidford itself shares some historical value as there was an Anglo Saxon settlement here the river bridge dates from the 15th century and the Falcon Inn was built in the 16th century, two centuries later on the Harbour Guest House was built.
The Harbour Guest House is an attractive black and white period house which was built as a working farm it now stands in half an acre of well managed gardens.
On arrival at The Harbour you can expect a warm and friendly welcome as we are delighted to greet you as our guests.
The house offers comfortable accommodation for all who visit, this is essentially due to its welcoming olde world charm, with beamed ceilings, log fires in winter, a paneled dining room and a myriad of beams.  Our guests tell us they are reluctant to leave this pleasant and relaxing atmosphere.