Shakespeare's Stratford on the Web
www.stratford-upon-avon.co.uk
site by QuinSolve :: W - www.quinsolve.co.uk :: E - enquiries@quinsolve.co.uk :: T - +44 (0)1608 664774
Cox's Yard
Tramway Walk
Tel: 01789 404600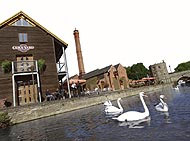 When in 1839, James Cox moved his fledgling timber merchant's business to Avon Bridge Wharf, he could never have imagined that over 160 years later visitors would be arriving at the same site to be welcomed to a new family entertainment complex called Cox's Yard.
During the great Victorian boom, there would have been wharves and warehouses lining the banks of the River Avon as businesses and the local population grew. James Cox and Son supplied timber to builders in Stratford and the surrounding area and gained a great reputation for providing the finest materials for many of today's historic buildings in Shakespeare Country.
Just as Cox and Son's business was located at the very heart of Stratford's business community, so the new Cox's Yard is playing a central role in the life of the town, and offering visitors a unique location for Drinking, Dining and Entertainment on the River.
Stratford owes its very existence to the river and the Avon plays an important role in the 21st century Cox's Yard.
Cox's Yard features a Family Pub with riverside patio for drinking and Dining, as well as our continental styled Bridge Café serving freshly baked pastries, cakes and a wide range of beverages and a Games room for all the Family.
Entertainment is offered throughout the week at Cox's Yard. The Attic theatre provides workshops and performs plays for young children. There will be lots of fun with Bungee Trampolines and entertainers in the front courtyard this summer, and relaxing jazz and acoustic sounds will be played "live" regularly at the Riverside Patio. Our Music room is the "only dedicated entertainment venue in Stratford" offering a variety of evenings such as Comedy, Live rock music, Blues, Salsa and Party nights featuring brilliant tribute bands covering material by Robbie Williams, Coldplay, Jimi Hendrix, Bon Jovi and many more.
Access Guide


This site is free to enter, except for the Visitors Centre itself, which charges an entrance fee. Designated parking spaces for Orange Badge holders are on offer. Entrance to the site is via steps from Tramway Walk, and a fully accessible sloped area from the car park. A small shop selling snacks has a stepped entrance and a side window. The entrance to the Visitors Centre houses toilet facilities which are fully accessible. Flat, level wooden floors feature throughout all the building, and exhibits and their operation controls are displayed at a low level. There is a low counter in the gift shop. Two steps lead to the outside. Those not able to use the steps should make themselves known to staff, who will be pleased to direct visitors towards an alternative sloped exit.
Movement to upper levels of the Visitors Centre is via wide wooden staircases, with handrails to both sides. Otherwise, a lift, which is clearly signed, provides access. The lift has Braille operation controls. There is ample space for circulation throughout the centre, however, space can become restricted, as this attraction is often busy. On entering the tea shop there is a slight lip, the interior is flat and level. Fully accessible toilets are again provided. Visitors should be aware of the dim lighting which features, as they enter the Camera Obscura room on the first floor, and the Attic room on the second floor.
Cox's Yard
Tramway Walk
Stratford-upon-Avon