Shakespeare's Stratford on the Web
www.stratford-upon-avon.co.uk
site by QuinSolve :: W - www.quinsolve.co.uk :: E - enquiries@quinsolve.co.uk :: T - +44 (0)1608 664774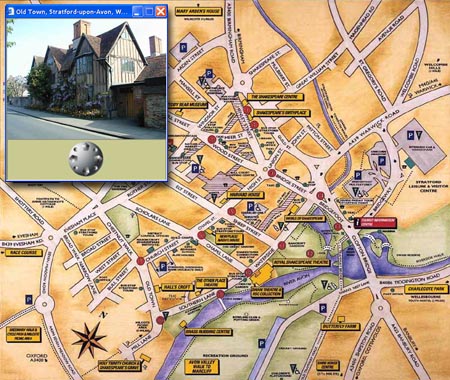 'The Stratford Walkabout'
Travel
Get up to date information on travelling in and around the area, including information on the coach restrictions within town.
Stratford-upon-Avon is centrally located within England - just south of Birmingham, North-East of Bristol and North-West of Oxford.
Travelling to Stratford-upon-Avon can be by road (see attached maps), by rail (Stratford-upon-Avon station is in the centre of town), by coach (see the National Express guide later) and even by boat.
Warwick and Leamington Spa are 10 miles to the north, Evesham (and the M5) is 10 miles to the west, Oxford (and the M40) is 35 miles due South-West and Banbury is 25 miles to the East (also the M40).
Travelling to Stratford by Boat is one of the most leasurely ways to arrive - the Stratford Canal connects with the Grand Union Canal to the north and down the River Avon to Evesham and beyond.
See also the Shakespeare Express for steam train travel. You can also look around town using our walkabout system - click on the map above to turn on the 'Walkabout'.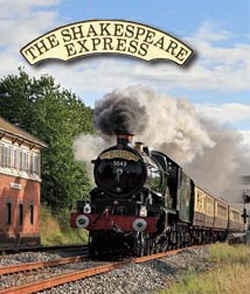 The Shakespeare Express
For something different - why not dine out on the Shakespeare Express.
Departure Times
Our train departs Stratford-upon-Avon at 12:32 for Birmingham and returning at 15:01 we serve a 3-course Sunday lunch for the dining passengers.
Discounts
Family discounts available.
For accommodation choices in Stratford-upon-Avon:
SECURE ONLINE BOOKING
B&Bs / Guesthouses in Stratford upon Avon
B&Bs / Guesthouses out of Stratford upon Avon
Hotels in Stratford upon Avon
Hotels out of Stratford upon Avon
Private Houses in Stratford upon Avon
Private Houses out of Stratford upon Avon
Pubs & Country Inns
Farms & Country Houses
Self-Catering Apartments & Cottages
Country Houses outside Stratford upon Avon
Holiday Parks + Camping + Caravanning
Late Availability in Stratford upon Avon