Shakespeare's Stratford on the Web
www.stratford-upon-avon.co.uk
site by QuinSolve :: W - www.quinsolve.co.uk :: E - enquiries@quinsolve.co.uk :: T - +44 (0)1608 664774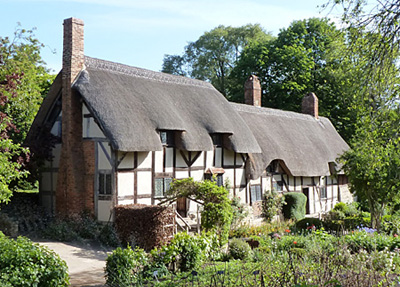 Anne Hathaway's Cottage - Stratford-upon-Avon - photo by
Quinsolve ©
Welcome to Stratford-upon-Avon.
Welcome to Stratford-upon-Avon, the birthplace of William Shakespeare, steeped in culture and history. Set in the beautiful rural Warwickshire countryside, on the banks of the river Avon, it is one of the most important tourist destinations in the UK. With easy road, rail and airport access, it is the perfect place for a vacation or short break. Facilities for conferences and smaller business venues are excellent.
Come wander through these Stratford pages, get a taste of Olde England - and make your plans now. Using the Stratford district as a base, you can enjoy the delights not only of Shakespeare's hometown, but also the nearby surrounding shire counties of Oxfordshire, Worcestershire and Gloucestershire. Enjoy Blenheim Palace and the
Cotswolds
to the south, Worcester and the Malverns to the west, Warwick Castle and Henley in Arden to the north, and all within an hour's journey of Stratford itself.
Here you will find hundreds of pages of information on: accommodation, eating out, drinking and relaxing, romantic breaks, theatres, places to visit - Shakespeare's houses and the beautiful Stratford-upon-Avon with its parks and gardens on the banks of the river Avon. Come visit Stratford-upon-Avon and enjoy our lovely town.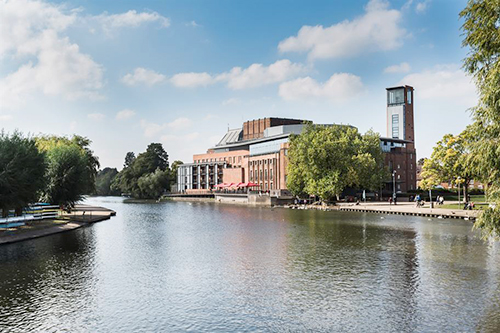 Newly Reopened RSC Theatre.
Stratford has just recently enjoyed their wonderful World Festival season and had a very successful season in 2012 for the Royal Shakespeare Theatre.
If you are planning to visit Stratford plan early especially during special occasions.
The RSC theatre has a very busy schedule for the Spring and Summer for 2013 with programmes by Shakespeare and other authors:
- Hamlet
- The Icebook
- The Winter's Tale
- The Empress
- As You Like It
- A World My Masters
- Titus Andronicus
- All's Well That Ends Well
- Candide
- Antony and Cleopatra.
See our What's On programme for more details as they become available.
For the current theatre schedule showing at the Royal Shakespeare Company (RSC) which has a full set of programmes throughout summer 2013.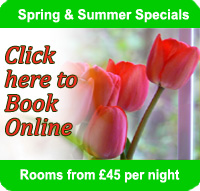 Stratford-upon-Avon has a very rich and varied programme of events and activities see our What's On for 2013 throughout the year: theatres, arts, music in the parks, river racing, river cruising, walks along the river or simply relax and take in the atmosphere that is Shakespeare's Stratford.
Royal Shakespeare Theatre Schedule for Winter 2013:
Welcome to the Royal Shakespeare Company's Winter 2013 season with Shakespearean tragedy and comedy, Jacobean satire set in the 1950s and new writing from Mark Ravenhill and Tanika Gupta.
Richard II: 10 October - 16 November 2013 (Royal Shakespeare Theatre). Richard is King. A monarch ordained by God to lead his people. But he is also a man of very human weakness. A man whose vanity threatens to divide the great houses of England and drag his people into a dynastic civil war that will last 100 years.
RSC Artistic Director Gregory Doran directs David Tennant in the title role. Richard II is the first production in a new cycle of Shakespeare's History Plays, directed by Gregory, that will be performed over the coming seasons. David is joined in the company by Oliver Ford Davies, both of whom appeared in the acclaimed 2008 Hamlet.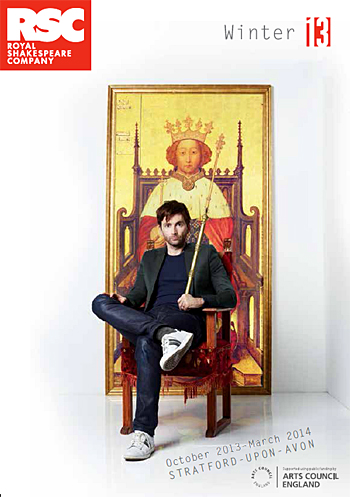 Wolf Hall: 11 December 2013 - 29 February 2014 (Swan Theatre) England in 1527. Henry VIII has been King for almost 20 years and is desperate for a male heir. Intent on divorce he demands that Cardinal Wolsey persuade the Pope to grant him an annulment. With every month that passes without progress the King's anger grows. Into this volatile court enters the commoner Thomas Cromwell. A one-time mercenary, master-politician, lawyer and doting father, he sets out to grant the King his desire whilst methodically and ruthlessly pursuing his own reforming agenda.
Bring up the Bodies: 19 December 2013 - 29 March 2014 (Swan Theatre) Anne Boleyn is now Queen, her path to Henry's side cleared by Cromwell. But Henry remains without a male heir, and the conflict with the Catholic Church has left England dangerously isolated as France and the Holy Roman Empire ominously manoeuvre for position. When the King begins to fall in love with the seemingly plain Jane Seymour, Cromwell must negotiate an increasingly dangerous court as he charms, bullies and manipulates nobility, commoners and foreign powers alike to satisfy Henry, keep the nation safe and advance his own ambitions.
Wendy and Peter Pan: 10 December 2013 - 2 March 2014 (Royal Shakespeare Theatre) Winter 1909. Snow is falling across London. Wendy Darling and her two brothers sleep peacefully in their bedroom, as their parents bicker downstairs. In a sudden flurry of snow the window blows open, and into their lives tumbles a mischievous boy called Peter. Shortly followed by a very fractious fairy by the name of Tink. In the magical Peter Pan, Wendy sees not only a great adventure, but also a chance to rediscover the key to her parents' lost happiness. With the aid of a little fairy dust she agrees to fly with Peter to Neverland. There she will give the Lost Boys a run for their money, defeat Captain Hook and his pirate crew, and ultimately, learn what it means to grow up. JM Barrie's classic tale of the boy who never grows up is adapted in a spectacular new version by Ella Hickson (Boys, Soho Theatre and Decade for Headlong) and directed by Jonathan Munby (for the RSC The Canterbury Tales).
Join us in Winter 2013 as we fly to Neverland...
Note: Programme produced by The Royal Shakespeare Company. Click here for a downloadable and printable copy of the
RSC Winter 2013 Programme.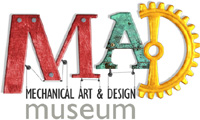 New MAD (Mechanical Art and Design) Museum now Open in Stratford-upon-Avon:
The MAD Museum (Mechanical Art & Design) showcases Kinetic Art, Automata and Steampunk. Located on Stratford-upon-Avon's highly popular Sheep Street, MAD houses an exciting assortment of exhibits which are superbly engaging for all ages. Think Health Robinson mixed with a Scrapheap Challenge and a hotchpotch of futurist mechanisms and then stir it all up with mind blowing creativity and ingenuity. Come and immerse yourself in an eccentric world full of wacky creations, clever design and interactive entertainment!
New Tourist Office for Stratford-upon-Avon:
Stratford-on-Avon District Council in partnership with Stratford-upon-Avon College recently opened a 'Welcome to Stratford-upon-Avon' new tourist office at 62 Henley Street, Stratford-upon-Avon (just down the street from Shakespeare's Birthplace). They will include sales of tickets to local venues and provide an important information facility for visitors and tourists. Telephone: 01789 264 293.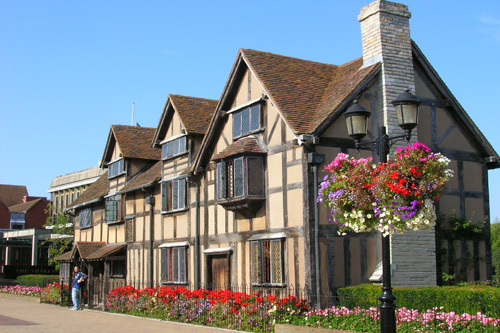 Festivals and Events in Stratford-upon-Avon 2013
Stratford-upon-Avon is a wonderful place to enjoy throughout the year.
Programme of Events for 2014:
- Shakespeare's Birthday Parade (April)
- The River Festival (June/July)
- Stratford Literary Festival
- Stratford Food Festival (September)
- Stratford Races (throughout the year)
- Stratford Fringe Festival (June)
- Rotary Shakespeare Marathon (April)
- Sunday Bandstand Concerts (Summer)
- Stratford Mop (the town becomes a Fairground in October)
- Christmas Lights and Christmas Shopping.
Stratford is a delightful town which can easily be walked around and explored on foot or using the hop-on, hop-off bus service operated by the Shakespeare Trust, who manage the five Shakespeare Houses in and around Stratford..
William Shakespeare's Birthplace in Stratford-upon-Avon - photo by QuinSolve©
For accommodation choices in Stratford-upon-Avon:
SECURE ONLINE BOOKING
B&Bs / Guesthouses in Stratford upon Avon
B&Bs / Guesthouses out of Stratford upon Avon
Hotels in Stratford upon Avon
Hotels out of Stratford upon Avon
Private Houses in Stratford upon Avon
Private Houses out of Stratford upon Avon
Pubs & Country Inns
Farms & Country Houses
Self-Catering Apartments & Cottages
Country Houses outside Stratford upon Avon
Holiday Parks + Camping + Caravanning
Late Availability in Stratford upon Avon