Shakespeare's Stratford on the Web
www.stratford-upon-avon.co.uk
site by QuinSolve :: W - www.quinsolve.co.uk :: E - enquiries@quinsolve.co.uk :: T - +44 (0)1608 664774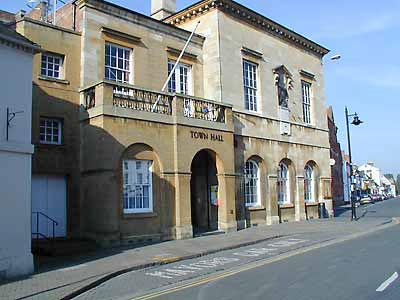 Stratford-upon-Avon Town Hall
Information for Disabled
All the assistance that the disabled visitor may need to make their visit to Stratford enjoyable and stress free.
Throughout the tour of Stratford and the surrounding areas you will find details regarding access and facilities for disabled people. These will include step heights door types, floor inclines and access mechanisms. These facilties are well sign posted.
ABBREVIATIONS

SP - Street Parking
COW - Clear Open Width

Radar Keys are available:
On Hire from:
Birthplace Trust
Coach Park Terminal
Purchased from:
Technical Services Dept., Council Offices, Church Street
CVS Arden House, Arden Street
---
Bell Court

Flat surface. Opened by radar lock
Bridgefoot

At rear of building. Opened by radar lock
Recreation Ground

Ramp at door. Opened by radar lock
Waterside

Ring bell for assistance. Handrail
Windsor Street

Flat surface. Opened by radar lock
Ely Street

Flat surface. Opened by radar lock
---
Bell Court
Bridgefoot
Chestnut Walk
Henley Street
Meer Street
Waterside
Bridge Street

---
Main Post Office - Henley Street
Access Guide



The National Minicom number is 0345 223355. They will put you in contact with someone in your region, if you require information. A Service Call receiver has been fitted. The entrance is flat and level with wide doors, which are kept open. The inside is flat and level throughout, and ample seating. A low level writing desk is provided for customers. One counter, which is clearly signed, has an induction ioop fitted. The closed counters are at standard level. Transactions can be carried out for those unable to reach these, at the open plan desks. A specially appointed member of staff, who is trained in access and disability awareness will be delighted to assist if required. A service named "Articles for the Blind" enables those with visual impairments to send packages weighing up to 7 kg by First Class, free of charge. A public telephone has been provided at a height suitable for wheelchair users. Staff are particularly helpful, and most have undergone some training in disability issues. Contact Branch Manager for further information.
2-3 Henley Street (Tel. 01789 414939)
Sub-Post Offices - Tiddington Road
Letter Boxes:
Church Street/Chestnut Walk
Rother Street
Sheep Street
Waterside
Henley Street
Bridge Street
---
For general information about the Leisure Centre
please check the information here
.
Access Guide






There are four Orange Badge holder spaces in the car park, situated to the left of the entrance. From this area, a ramp with handrails leads to the entrance, which has flat and level access, and an automatic door. Otherwise, steps lead to the main entrance which has outward opening doors. All facilities are free for visitors with disabilities. There is flat access throughout the ground floor of the building, including Harvey's Continental Cafe.
Flights of stairs with handrails lead to the upper floors, alternatively a lift is situated by the entrance via the automatic doors. This provides access to all upper areas, and has tactile controls and a handrail. There is a ramp with a handrail down to the Sports Hall area. There are various adapted shower and changing facilities for those with disabilities, and six toilets which are fully accessible in the building.
In the swimming pooi area, there are special facilities for those with disabilities. A sports group for people with disabilities called "Access Unlimited" meets on Sunday at 5.30 p.m. to 6.30 p.m. Please contact the Centre direct for more information.
Bridgefoot (Tel. 01789 292209/268826)
---
Access Guide








There is a Service Call receiver at the front entrance. Two designated parking spaces for Orange Badge holders exist outside the entrance to the building. There is flat and level access into the building, which has automatic doors. Gently sloped access leads to the reception area. Fully accessible toilet facilities are located on the ground floor, near to the reception area. Wheelchairs users are requested to report to reception, for safety reasons. There is a minicom available, and an induction ioop is fitted at the counters on the right of the entrance. Flights of stairs lead to the upper floors, otherwise they are reached via a lift, which has Braille controls. There is restricted width in the lift. There are changing floor levels on the upper floors. Dropped counters are provided in the Technical and Amenities and Planning Departments. Please ask at reception for any assistance or information.
Stratford-on-Avon District Council
Elizabeth House
Church Street
CV37 6HX (Tel 01789 267575 Minicom 01789 260747 Fax 01789 260007)
---
For today's information on theatres, events, attractions,leisure and sports activities.
Local Bus and National Express coach travel. Room reservations, Guided tours by qualified Blue Badge guides. Thomas Cook - Bureau de Change (tel: 01789 269750).
Special Promotion: (we buy and sell foreign currency commission free)
For a comprehensive range of gifts, guide books, maps and other publications.
Our opening times are:
WINTER - 1 November- 31st March
Monday to Saturday 9.30 a.m. to 5.00 p.m.
Sundays 10.00 a.m. - 4.00 p.m
SUMMER - 1 April - 31 October
Monday to Saturday 9.00 a.m. - 5.30 p.m.
Sundays 10.30 a.m. - 4.30 p.m.
Address
Stratford-upon-Avon Tourist Information Centre
Bridgefoot
Stratford-upon-Avon
CV37 6GW
Tel:
+44 (0)870 160 7930
Fax:
+44 (0)1789 295262
email:
info@shakespeare-country.co.uk
Access Guide


There is flat access to both entrances of the centre, and the interior. The sprung doors in the entrance open outwards. Ample room for circulation exists between the displays. A dropped counter is available, situated underneath the red "wheelchair users" sign.
Bridgefoot (Tel. 0870 160 7930)