Shakespeare's Stratford on the Web
www.stratford-upon-avon.co.uk
site by QuinSolve :: W - www.quinsolve.co.uk :: E - enquiries@quinsolve.co.uk :: T - +44 (0)1608 664774
Shakespeare's Life in Context
William Shakespeare has stood the test of time so well that even now as we approach the millennium, more than four hundred years after his birth, he is held in the highest regard as the world's greatest poet and playwright, and Stratford-upon-Avon was respectful of him in his own time. Over the span of his fifty two years, from a relatively obscure background, he achieved fame, wealth and status without ever losing touch with his roots in his native Warwickshire. He began and ended his life in Stratford-upon-Avon and although documented evidence about his life is scant - he left no diaries or letters to illuminate his life - scholars over the centuries have pieced together enough for us to gain a good insight into the course of his life, during which he wrote thirty-seven plays, the poems Venus and Adonis, The Rape of Lucrece, The Phoenix and The Turtle and The Sonnets.

Shakespeare was born in April 1564 and although the exact date of his arrival is not known, it has been traditionally taken to have been 23rd April, auspiciously enough St. George's Day. The baptismal register, the relevant page of which is on display in Holy Trinity Church, shows that he was baptised on 26th April of that year.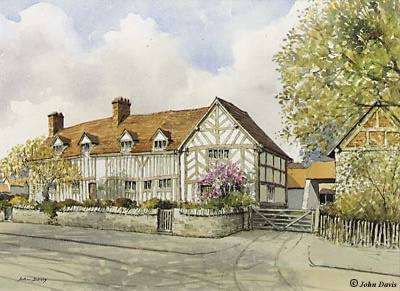 Such was the rate of infant mortality that babies in those days were baptised within two or three days of their birth. William was the third child in the family but the first to survive to adulthood, despite an outbreak of plague in his first year, his two older sisters dying in infancy and early childhood. His parents lived in the town, in Henley Street, and both were rooted in the Stratford area. John Shakespeare, William's father, was the son of a tenant farmer at Snitterfield, some three miles north of Stratford, but he had come to live in the town as a glovemaker, a whittawer (white-leather worker) and general agricultural dealer some years before. He had done well, purchasing a house in Henley Street (now known as The Birthplace) and more property in Greenhill Street some five years before he married Mary Arden in around 1557.
She was the eighth daughter of Robert Arden, a landowner and farmer whose family forebears had been given land by William the Conqueror, and who, on her father's death, inherited his sizeable farm at Wilmcote. It was Robert Arden who owned the Shakespeare's tenanted farm at Snitterfield, and thus it was that John Shakespeare came to better himself through his marriage. He was a dynamic man, who achieved yet more status locally by holding various council offices in the town and becoming Bailiff, the equivalent of mayor today. William had the example of his father's success and the standing of his mother as a gentlewoman to ignite his own ambition, and it was while he was young that his father was at the height of his influence.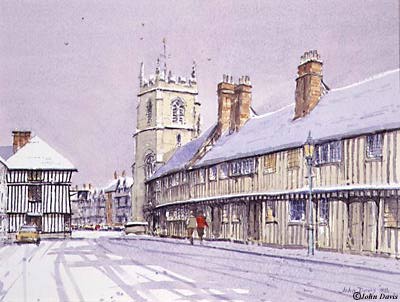 It is supposed but not proved that he attended the King Edward VI Grammar School in Stratford, which still flourishes today on the same site. Here, his education would have consisted of a thorough knowledge of Latin, Logic and Rhetoric and also History, which would have been mainly classical. This curriculum was intended to induce mental precision and an awareness of intellectual truth in order to form and extend the mind. The school's headmaster was on a salary of £40 per annum which was on a par with those of eminent schools at the time so the school attracted good teachers, and it is probable that two Oxford graduates Ben Hunt and Thomas Jenkins taught Shakespeare during his time there until he left at about the age of fourteen. Just at this time, the fortunes of his father mysteriously failed as he appeared to fall into financial difficulties which led him to default on his attendance at council meetings and in the end resulted in the mortgaging of his wife's farm at Wilmcote, a loss which must have been sorely felt by the family. Whether the reasons for John Shakespeare's demise lay solely in debt is uncertain. There is circumstantial evidence that he held secret Catholic affiliations in what was an aggressively Protestant society and this brought about the disfavour which caused his downfall. As for William, there is every likelihood that he became apprenticed to his father's business in Stratford. It was a thriving market town which attracted all sorts of travellers including the troupes of itinerant players of the kind that he later became associated with in London. In 1572 and 1575 Queen Elizabeth I passed close by to Stratford via Charlecote, on her visits to and from Kenilworth and Shakespeare would have had the opportunity to see at close quarters the manners of the court.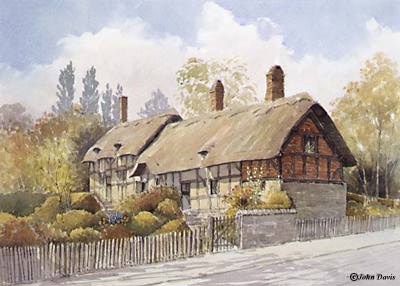 Whatever his movements and experience, by the age of eighteen, he had become involved in a relationship with Anne Hathaway, daughter of a yeoman farmer at Hewlands Farm, Shottery and was to be married by special licence, possibly at Temple Grafton Church, nearby. She was eight years senior to William and already three months pregnant but while there has been speculation that the match was less than perfect, he remained loyal if not faithful to her throughout his life, returning regularly each year to visit the family.
Susanna Shakespeare was born the following May and twins Judith and Hamnet in February twenty months later, before William was even twenty-one. Between the years 1585 and 1592 there is considerable doubt about Shakespeare's activities. This period in his life is known as "the lost years" and numerous theories abound as to what he did during them. It is possible that he became a teacher for a while or even that he was associated with the law, as several of his plays reveal a detailed working knowledge of the law but at some stage it is probable that he left Stratford and attached himself to a company of actors under patronage, possibly Leicester's Men later known as Lord Strange's Men. Why he left his family so suddenly cannot be explained though popular folklore would have it that Shakespeare along with several others, was caught poaching a deer on land owned by magistrate Sir Thomas Lucy of Charlecote Park. In order to escape the consequences, it is said that he ran away to London, though this is probably a rather fanciful tale. It may well have been that his initial contribution to the theatre was to hold the horses outside but it was not long before he became involved in the plays themselves. It is thanks to the petulant complaint of a rival Robert Greene that we know that by 1592 he had gained a reputation for both acting and writing, for he was termed "an upstart crow" in a publication circulated at the time and was already an important member of the theatre company then based at The Rose Theatre in Southwark, London which was owned by Philip Henslowe. The sudden death of his main rival Christopher Marlowe in a tavern brawl in 1593, left the way open for Shakespeare to further his writing career without undue competition.
Shakespeare's early playwriting was interrupted by a bout of the plague in London, in response to which the theatres were closed by the authorities. It was at this point, under the generous and prestigious patronage of Henry Wriothesley, the Earl of Southampton, Shakespeare wrote his two narrative poems Venus and Adonis and the Rape of Lucrece. However, by 1594 he was back in the world of the theatre, as part of The Lord Chamberlain's Men which had taken on the patronage of Henry Carey, Lord Hunsdon, the Lord Chamberlain, after the death of Lord Strange, a year earlier. This company performed now at the Theatre at Shoreditch, outside the city wall of London, leaving Philip Henslowe's Rose Theatre to The Admiral's Men, who were to be their main rivals. Shakespeare's associates in The Lord Chamberlain's Men included the actor Richard Burbage, son of the theatre proprietor James Burbage, who had done more than anyone to raise the profile of the theatrical profession and its respectability during the rapid expansion of London society in the late 1500s. After James' death in 1597 when there were problems with the lease, his other son, Cuthbert, took down the Theatre and rebuilt it on a site not far from The Rose, where it was known as The Globe, immortalised by Shakespeare as the "wooden O" in Henry V. It is worth recognising that Shakespeare remained with the same theatre company throughout his working life, although its title altered according to patronage, culminating in The King's Men in 1603. The network of successively prestigious patrons had brought Shakespeare social influence and his prodigious output of plays, popularity and fame. The Lord Chamberlain's Men organised their business dealings in a quite innovative way; the six most important members of the company (later the number was as high as twelve) including Shakespeare, owned a share in the property and as a consequence received money from the performances. The more successful their theatre the more they gained financially and in this way Shakespeare began to accumulate wealth.
Like his father, he invested in property both in London and Stratford-upon-Avon and pursued any debtors rigorously. Meanwhile, while William was determining his fortunes in London, his wife, Anne, lived on in Stratford with their three children. He would return each year to spend time with his family, probably breaking his journey in Oxford at The Crown Inn.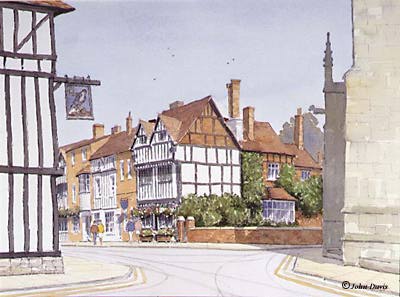 Shakespeare seems to have been on more than friendly terms with the family there. The innkeeper's wife Jane Davenant has even been considered as a contender for the identity of the Dark Lady of The Sonnets, though there are several more likely suggestions, and William, her son, was perhaps fathered by Shakespeare. In August 1596, however, Shakespeare's life was disturbed by family tragedy. His only son, Hamnet, at the age of eleven, died of the plague. Shakespeare's grief may be visible in King John but he continued to build his reputation, applying on his father's behalf only a few months later, for a coat of arms from the College of Arms. John Shakespeare had made a prior application and had been refused, but it seems it was important to William that he should succeed. In due course he did, and a coat of arms and motto Non Sanz Droict (Not Without Right) were ascribed to him. This is not the only sign we can see at this time of Shakespeare's rise in society. The following year in 1597, he purchased New Place in Stratford as his principal residence. This beautiful timber-framed three-storey house, the second largest in Stratford, had been built by the wealthy Clopton family and had five gables, fine gardens, orchards and land which stretched down towards the River Avon.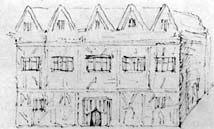 It stood opposite the Guild Chapel on Chapel Street in the centre of the town and the world could clearly see that William Shakespeare was now a man of substance. It was to this comfortable and prestigious place that Shakespeare retired in 1611.
The first six years at the turn of the century saw Shakespeare at the peak of his creative power, writing, among other plays, his great tragedies of Hamlet, Othello, King Lear and Macbeth, revealing a rather dark side in his writing. In 1607, back in Stratford, his elder daughter Susanna married Dr John Hall, a medical practitioner who was well qualified at Cambridge and Montpelier. They set up home in Hall's Croft, a stone's throw from Holy Trinity Church and in February of the following year their only daughter Elizabeth was born. The family prospered in the town. As the years passed, towards 1609 when Shakespeare's Sonnets were published, he began spending more of his time in Stratford. His last play, King Henry VIII, thought to be a collaboration with John Fletcher, was probably written here and it was during a performance of this play at The Globe in 1613, that fire broke out and destroyed the theatre. It was rebuilt and operating again a year later.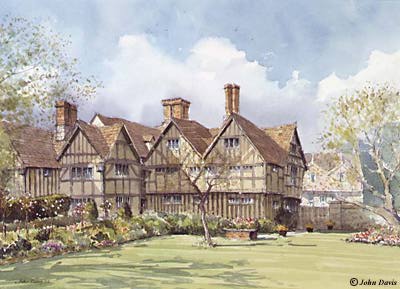 Retirement, after the complex and busy life Shakespeare had led in London, must have been relatively easy and stress-free. However, the relationship of his younger daughter Judith with a certain Thomas Quiney did much to upset the equilibrium. Thomas was a Stratford vintner some four years younger than Judith, who was already over thirty. Though one of the well-known local family of Quineys, Thomas seems to have been less than honourable for, while engaged to Judith, he had had an affair with a Margaret Wheeler who died in childbirth with his child, at the time of his marriage to Judith in February 1616. As if this were not bad enough, it appeared that Thomas had also ignored the need for a special licence to be obtained for weddings taking place in Lent. As a consequence, he was excommunicated and also tried for fornication by the ecclesiastical court. Shakespeare took a dim view of his son-in-law's disgraceful behaviour, and mindful of his estate (he had already outlived his last brother) he altered his will to prevent Thomas benefiting. The date of this will, first drafted in January 1616, was 25th March 1616, a month before his death. The main beneficiary of his will was Susanna, who inherited New Place along with his other property and most of his effects. It was she, after all, who had his only grandchild. His wife, Anne, was left his "second best bed", a source of much speculation since but probably the one they themselves used, the best bed being reserved for guests. Judith was left a mere £150 with the prospect of a further £150 to be inherited by Thomas Quiney if she should bear any surviving children and her marriage remained intact for three years, providing that her husband had passed over to her land of an equivalent value. The tone of the will shows Shakespeare's distaste for his son-in-law. He was determined that Thomas should not profit by his marriage to Judith when he died. Shakespeare's direct line came to an end with the death of his grand-daughter, Lady Elizabeth Barnard, in 1670.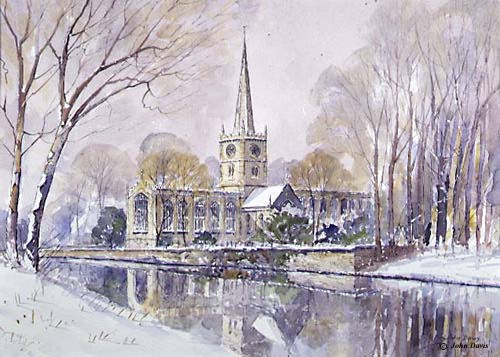 Stories about the exact manner of Shakespeare's death are probably untrue. The most popular, because it portrays him as gregarious and all too human, is that he contracted a fatal fever after a drinking session with his old friends and fellow writers, Michael Drayton and Ben Jonson. Nobody knows the real cause of his death, but he is recorded as having been buried on 25th April 1616 and just as his birth, his death was taken to have occurred on 23rd April.
The entry in the register is on view beside his tomb in Holy Trinity Church. Ben Jonson's "Sweet Swan of Avon" lies alongside that river in the town he always considered his home.
Elizabeth Hunter. September 1999.
Bibliography:
Shakespeare The Evidence
- Ian Wilson, ISBN 0-7472-0582-5
Shakespeare Court, Crowd and Playhouse
- Francois Laroque, ISBN 0-500 300 356
The Life of Shakespeare
- S Schoenbaum, ISBN 0-521-31841-6
Shakespeare His world and His Work
- M M Reese, ISBN 0-7131 6256 2