Shakespeare's Stratford on the Web
www.stratford-upon-avon.co.uk
site by QuinSolve :: W - www.quinsolve.co.uk :: E - enquiries@quinsolve.co.uk :: T - +44 (0)1608 664774
Eating Out
Whether you fancy afternoon tea, a pub lunch or a classic cuisine in a Brasserie, there are a wealth of eating places within and around Stratford-upon-Avon.
Please browse through the list below for your selection.
Stratford-upon-Avon hosts a suprisingly large number of establishments that cater for your eating out needs. Most cater for you, using locally sourced produce and a number have attained excellent awards.
We do advise you telephone and check opening times and days with the establishment of your choice.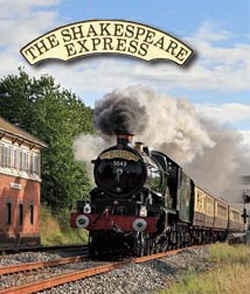 The Shakespeare Express
For something different - why not dine out on the Shakespeare Express.
Departure Times
Our train departs Stratford-upon-Avon at 12:32 for Birmingham and returning at 15:01 we serve a 3-course Sunday lunch for the dining passengers.
Discounts
Family discounts available.
For accommodation choices in Stratford-upon-Avon:
SECURE ONLINE BOOKING
B&Bs / Guesthouses in Stratford upon Avon
B&Bs / Guesthouses out of Stratford upon Avon
Hotels in Stratford upon Avon
Hotels out of Stratford upon Avon
Private Houses in Stratford upon Avon
Private Houses out of Stratford upon Avon
Pubs & Country Inns
Farms & Country Houses
Self-Catering Apartments & Cottages
Country Houses outside Stratford upon Avon
Holiday Parks + Camping + Caravanning
Late Availability in Stratford upon Avon