Shakespeare's Stratford on the Web
www.stratford-upon-avon.co.uk
site by QuinSolve :: W - www.quinsolve.co.uk :: E - enquiries@quinsolve.co.uk :: T - +44 (0)1608 664774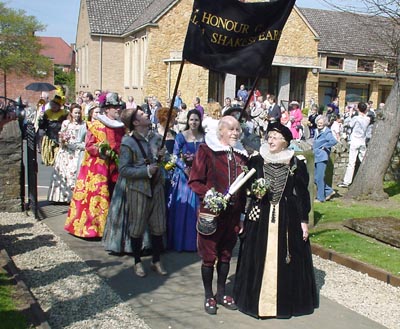 William Shakespeare Parade
William Shakespeare (1564-1616)
Discover everything we know, and that's quite a lot, about the famous Bard of Avon. Stratford-upon-Avon's famous playwright who was christened and buried in the local church. Read on for loads more information on:
William Shakespeare (1564 - 1616) was born at Stratford-upon-Avon in
a house in Henley Street
. This is preserved intact. His mother, Mary Arden, was one of the daughters of Robert Arden, a yeoman farmer of Wilmcote: his father, John Shakespeare, was a glover and wool dealer of good standing who held the office of Bailiff of the Borough in 1568.
Visitors to Stratford-upon-Avon can see all of the original five Shakespeare houses that are carefully restored and managed by the Shakespeare Birthplace Trust so visitors can experience how they lived in the 1600's. The three houses in town (The Birthplace, Nash's House/New Place and Hall's Croft) are all within walking distance and there is a touring bus service that will take visitors around town and to the five Shakespeare houses.:
Shakespeare's Birthplace - where William was born and lived
Anne Hathaway's Cottage - family home of Shakespeare's wife
Mary Arden's House - childhood home of Shakespeare's mother
Hall's Croft - home of the husband of Shakespeare's daughter Susanna
Nash's House & New Place - Shakespeare's family home from 1597 until 1616