Shakespeare's Stratford on the Web
www.stratford-upon-avon.co.uk
site by QuinSolve :: W - www.quinsolve.co.uk :: E - enquiries@quinsolve.co.uk :: T - +44 (0)1608 664774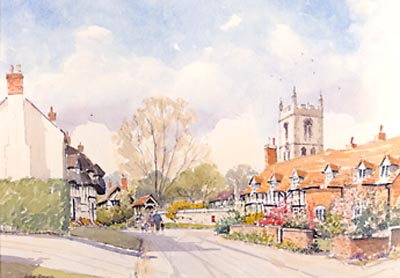 Welford on Avon, Warwickshire, watercolour
Stay in Warwickshire and the Cotswolds
Warwickshire and the Cotswolds offer a wonderfully rich choice of accommodation from hotels, guest houses, B&Bs, farmhouses, self-catering cottages through to camping and caravaning and the Youth Hostels.
Whether you choose to be in town or out in the country (this is rural England where the countryside is beautifully pastoral), you will find the warmest of welcomes. There are large and small establishments, with varying prices - you can be waited on or do-it-yourselves. Please bear in mind that a car is advisable if you are planning a stay outside town.
The romantic Cotswold district is located not 10 miles to the south of the county in Gloucestershire, Worcestershire and Oxfordshire. Chipping Campden is the northernmost town and is an exceptional example of Cotswold stone architecture dating back 500 years.