Shakespeare's Stratford on the Web
www.stratford-upon-avon.co.uk
site by QuinSolve :: W - www.quinsolve.co.uk :: E - enquiries@quinsolve.co.uk :: T - +44 (0)1608 664774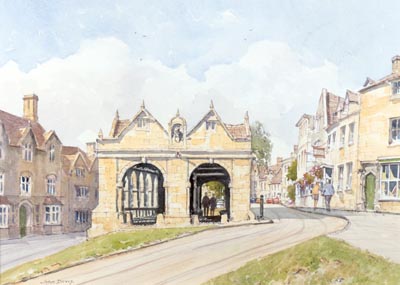 Chipping Campden Market Hall, watercolour by
John Davis©
Accommodation in the Cotswolds
Lying to the south east of Stratford-upon-Avon are the North Cotswolds. Many pretty villages and market towns with their buuildings constructed from unique Cotswold honeystone.
The market towns, of Chipping Campden, Moreton in the Marsh, Winchcombe, Stow in the Wold and Bourton in the Water are all waiting to be discovered.
On your voyage of discovery you will find numerous villages tucked in vales, seemingly stuc to steep hillsides. All the quaint and pretty sleepy villages of Broadway, Stanton, Stanway and Snowshill.
Whether you choose a town hotel, a village bed and breakfast, a farm or your own rented cottage - the North Cotswolds deserves to be explored.
The Choices -
(links in blue)