Shakespeare's Stratford on the Web
www.stratford-upon-avon.co.uk
site by QuinSolve :: W - www.quinsolve.co.uk :: E - enquiries@quinsolve.co.uk :: T - +44 (0)1608 664774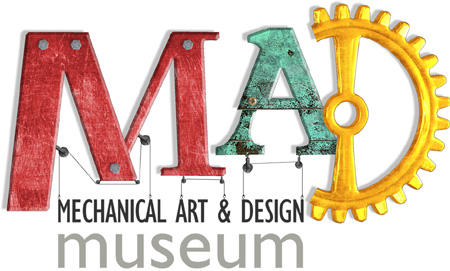 Mechanical Art & Design Museum
The MAD Museum, Sheep Street, Stratford-upon-Avon. CV37 6EF Tel: 01926 865 839
The MAD Museum is new to the public and is located on Stratford-upon-Avonís highly popular Sheep Street.
The museum houses a fascinating assortment of weird and wonderful Kinetic Art, Automata and Steampunk machines.
Opening Times:
April 2013 - September 2013:
Opening hours - 10.30am - 5.30pm
October 2013 - March 2014:
Opening hours - 11.00am - 5.00pm
Open every day
The MAD Museum (Mechanical Art & Design) showcases Kinetic Art and Automata. Based in Stratford upon Avon, Warwickshire, The MAD Museum offers visitors an attraction which is completely different and totally unique. The museum is the only permanent exhibition of its kind in the UK and as such has attracted artists from all over the world who are interested in showcasing their work.
The MAD Museum houses an exciting assortment of exhibits which are superbly engaging for all ages. There is an extravaganza of visual entertainment with lots of rolling balls and plenty of clanking and rattling thrown in for good measure! For the uninitiated, the museum is a mix of Heath Robinson and Scrapheap Challenge with a hotchpotch of futurist mechanisms all stirred up with mind blowing creativity and ingenuity. The MAD Museum holds over 100 pieces; both large and small with two floors full of far-fetched designs and quirky contraptions.
Enter an eccentric world of moving art; The MAD Museum is a wonderful place to experience and interact with an extraordinary assortment of both modern and old fashioned, yet highly innovative, machines. It is perfect for the whole family offering a highly interactive experience but it will also interest those who are fascinated by physics, design and engineering but most of all fun!
The MAD Museumís Gift Shop Ė Pick from an eclectic assortment of wind-up toys, sound machines, marble runs, bubble robots, IQ tests, weird science experiments and much more! Great for little kids and big kids alike, whether youíre shopping for birthday presents or party gifts; The MAD Museum's shop is full of quirky gadgets and games to help inspire creativity, encourage building and make science fun! Due to popular demand, the MAD Museumís gift shop is now available online too!
www.TheMadMuseum.co.uk/shop