Shakespeare's Stratford on the Web
www.stratford-upon-avon.co.uk
site by QuinSolve :: W - www.quinsolve.co.uk :: E - enquiries@quinsolve.co.uk :: T - +44 (0)1608 664774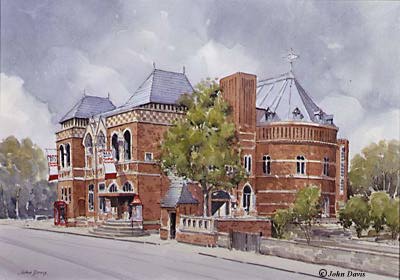 R.S.C. - Swan Theatre & Library - A Watercolour
Royal Shakespeare Company (RSC)
This is
The Shakespeare Company
, the centre of the Shakespearian universe, with other operations in London and Newcastle upon Tyne.
Here we find the finest actors and directors working on great plays in some of the best theatre spaces in the world. The RSC in Stratford offers three theatres providing an elaborate range of drama, ancient and modern, classic and contemporary.
Accessibility Facilities

The Royal Shakespeare Company actively encourages visitors with disabilities, and provides a range of specialised facilities, aiming to positively improve access to its theatres, wherever possible. Groups of people with disabilities are encouraged to go on specially arranged tours (ring for details). An "in house" access group has been recently set up with the aim of continuously improving facilities for access, and to tackle the problems presented to people with disabilities, by the listed features of the buildings. An " Access to the Arts" programme has been in action since 1991. This includes the provision of sign language interpretation, and audio described performances. Please identify yourself as a sign language user, when booking, to ensure seating close to the sign language interpreter. There are Induction Loop Amplification Systems in the theatres. Infra-red headsets are available on request for a £5 deposit (except in The Other Place). Please ring in advance, and give at least two weeks notice for large groups.
The Front of House staff are pleased to offer whatever assistance is required by visitors. Half price tickets are available for customers with disabilities. Orange Badge holders may reserve car parking spaces in front of the Royal Shakespeare Theatre, and the car park adjacent to The Other Place. A comprehensive "Access Guide" produced by the RSC, is available from the Front of House staff. The Access Officer for the RSC, Janet Beech McCoy, can answer queries on access. Contact the Royal Shakespeare Theatre for further details.