Shakespeare's Stratford on the Web
www.stratford-upon-avon.co.uk
site by QuinSolve :: W - www.quinsolve.co.uk :: E - enquiries@quinsolve.co.uk :: T - +44 (0)1608 664774
Schedules, Box Office and Online Booking
Click for the RSC web site. On this site is the information you need for all the RSC Theatres, including schedules and seating plans.
You can book online through here but only through a ticket agency.
Tickets from an agency cannot be refunded or exchanged but those obtained from the theatre box office can be. The only way to communicate with the box office is by phone, fax or post.
The telephone numbers for the RSC are:

Ticket Hotline:
Fax:
Tel: +44 (0)844 800 1110

Fax: +44 (0)1789 403413

The phone lines are open from 09:00 - 20:00 (local time) Monday through Saturday

Programme schedule for Spring and Summer 2019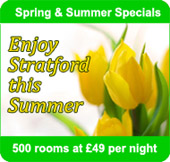 For accommodation choices in Stratford:
B&Bs / Guesthouses in Stratford
B&Bs / Guesthouses out of Stratford
Hotels in Stratford
Hotels out of Stratford
Private Houses in Stratford
Private Houses out of Stratford
Pubs & Country Inns
Farms & Country Houses
Self-Catering Apartments & Cottages
Country Houses outside Stratford
Holiday Parks + Camping + Caravanning