Shakespeare's Stratford on the Web
www.stratford-upon-avon.co.uk
site by QuinSolve :: W - www.quinsolve.co.uk :: E - enquiries@quinsolve.co.uk :: T - +44 (0)1608 664774
April
With April, Spring is in the air. Stratford really comes to life with a wide range of events and activities, crowned by our William Shakespeare Parade. The celebrations are usually held on the Saturday nearest to 23rd April, Shakespeare's birthday.
The traditional core events are: a procession to lay floral tributes on William Shakespeare's tomb, a birthday luncheon at which toasts are made to the Immortal Memory of William Shakespeare and to The Theatre, and, in the evening, a birthday performance of one of his plays at the Royal Shakespeare Theatre.
The Events
31st March - 28th October
Warwick Castle - Ghosts Alive
1st - 15th April 2007
Warwick Castle - SIEGE
6th - 9th April
Return of the Trebuchet and Siege Re-enactment Weekend
31st March - 2nd September
Flight of the Eagles
1st - 15th April 2007
Easter Eggstravaganza
01926 843411
8th & 9th April
Easter Fun
01789762090
Monday 9th April
Warwick Races -Easter Meeting
01926 491553
17th April -23rd June
Royal Shakespeare Company - The Seagull
0870609 1110
Starring Sir Ian McKellen
17th
Warwick Races - Flat Spring Meeting
01926 491553
First race 2.30pm
22nd April 2007
Stratford Races
01789 267949
First Race 2.30pm
23rd April, 2007
Spiritual Adventure – expand your ability to facilitate change.
01564 730048
People are looking for solutions for themselves and for their world. For many, prayer brings those solutions. International speaker, Sunny Scott-Luther, a practitioner of Christian Science healing, will explore ways to expand thought – providing a catalyst of ideas for individual spiritual growth in her talk " Life is a Spiritual Adventure "
28th - 29th April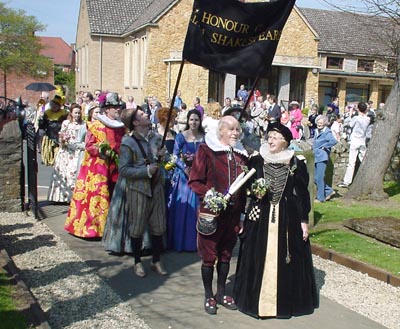 Shakespeare Birthday Celebrations
01789 415536
From origins in the eighteenth century Stratford-upon-Avon's Shakespeare birthday celebrations have developed into a unique international occasion which annually brings together people from many countries, institutions and professions to do honour to the immortal memory of William Shakespeare.