Shakespeare's Stratford on the Web
www.stratford-upon-avon.co.uk
site by QuinSolve :: W - www.quinsolve.co.uk :: E - enquiries@quinsolve.co.uk :: T - +44 (0)1608 664774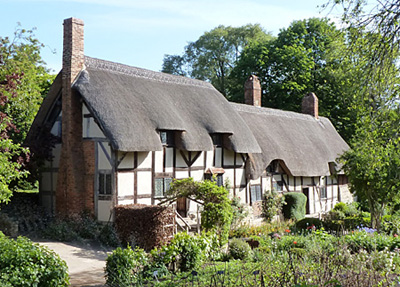 Anne Hathaway's Cottage - Stratford-upon-Avon - photo by
Quinsolve ©
Welcome to Stratford-upon-Avon.
Welcome to Stratford-upon-Avon, the birthplace of William Shakespeare, steeped in culture and history. Set in the beautiful rural Warwickshire countryside, on the banks of the river Avon, it is one of the most important tourist destinations in the UK. With easy road, rail and airport access, it is the perfect place for a vacation or short break. Facilities for conferences and smaller business venues are excellent.
Come wander through these Stratford pages, get a taste of Olde England - and make your plans now. Using the Stratford district as a base, you can enjoy the delights not only of Shakespeare's hometown, but also the nearby surrounding shire counties of Oxfordshire, Worcestershire and Gloucestershire. Enjoy Blenheim Palace and the
Cotswolds
to the south, Worcester and the Malverns to the west, Warwick Castle and Henley in Arden to the north, and all within an hour's journey of Stratford itself.
Here you will find hundreds of pages of information on: accommodation, eating out, drinking and relaxing, romantic breaks, theatres, places to visit - Shakespeare's houses and the beautiful Stratford-upon-Avon with its parks and gardens on the banks of the river Avon. Come visit Stratford-upon-Avon and enjoy our lovely town.
Newly Reopened RSC Theatre.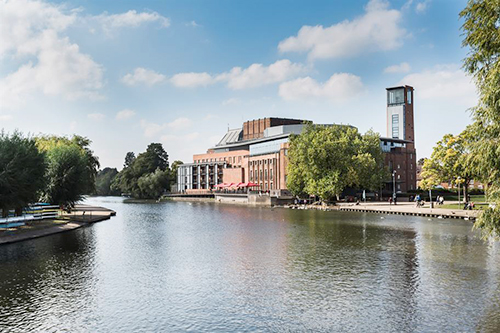 The RSC theatre has a very busy schedule for the Summer 2015 and Winter 2015 with programmes by Shakespeare and other authors:

- The Merchant of Venice
- Othello
- The Head that Wears a Crown
- A Midsummer Night's Dream
- Henry V
- Wendy and Peter Pan
- The Jew of Malta
- Love's Sacrifice
- Volpone
- Hecuba
- Love for Love
- Queen Anne
- Blithe Spirit
- Relatively Speaking
If you are planning to visit Stratford plan early especially during special occasions.
See our What's On programme for more details as they become available.
For the current theatre schedule showing at the Royal Shakespeare Company (RSC) which has a full set of programmes throughout summer 2015.
Stratford-upon-Avon has a very rich and varied programme of events and activities see our What's On for 2015 throughout the year: theatres, arts, music in the parks, river racing, river cruising, walks along the river or simply relax and take in the atmosphere that is Shakespeare's Stratford.
Royal Shakespeare Theatre Schedule for Summer 2015:
Welcome to the Royal Shakespeare Company's Summer 2015 and Winter 2015 season with Shakespearean comedies and a variety of other works.
The Merchant of Venice: 28 May 2015 to 21 July 2015 (Royal Shakespeare Theatre).
In the melting pot of Venice, trade is God. With its ships plying the globe, the city opens its arms to all, as long as they come prepared to do business and there is profit to be made.
With the gold flowing all is well, but when a contract between Bassanio and Shylock is broken, simmering racial tensions boil over.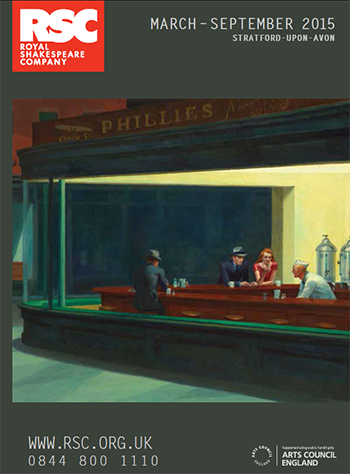 Othello: 4 June 2015 to 20 August 2015 (Royal Shakespeare Theatre).
Othello is the greatest general of his age. But he is also an outsider whose victories have created enemies of his own, men driven by prejudice and jealousy to destroy him. As they plot in the shadows, Othello realises too late that the greatest danger lies not in the hatred of others, but his own fragile and destructive pride.
The Head that Wears a Crown: 8 July 2015 (Royal Shakespeare Theatre).
The Head that Wears a Crown will tell the story of Prince Hal from errant prince to the victorious King Henry V. The performance will celebrate the achievements of children and young people in the Learning and Performance.
A Midsummer Night's Dream: 26 July 2015 (Royal Shakespeare Theatre).
For the first time Garsington Opera collaborates with the RSC on a joint project, with performances at the Royal Shakespeare Theatre, Stratford-upon-Avon, and Garsington Opera's spectacular pavilion on the Wormsley Estate in Buckinghamshire.A rare opportunity to see an abridged version of Shakespeare's play, performed by members of the RSC, with Mendelssohn's enchanting music, sung and played by Garsington Opera Singers and Orchestra.
Henry V: 12 September to 24 October 2015 (Royal Shakespeare Theatre).
Henry IV is dead and Hal is King. With England in a state of unrest, he must leave his rebellious youth behind, striving to gain the respect of his nobility and people. Gregory Doran continues his exploration of Shakespeare's History Plays with Henry V, performed in the 600th anniversary year of the Battle of Agincourt.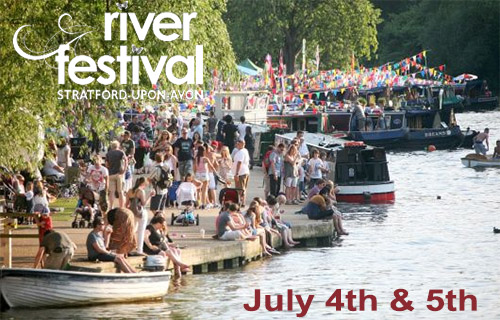 Wendy & Peter Pan: 17 November 2015 to 31 January 2016 (Royal Shakespeare Theatre).
Return to Neverland this winter with Ella Hickson's acclaimed re-telling of JM Barrie's classic children's story. Jonathan Munby's spectacular sell-out production wowed audiences in 2013 and we're delighted to bring it back for 2015.
Wendy, Peter, Tink and the Lost Boys are waiting to take you on an unforgettable journey…
The Jew of Malta: 30 May to 29 August 2015 (Swan Theatre).
Malta is threatened with invasion by the Turkish Empire. The Christian Governor attempts to buy off the invading fleet with monies levied from the island's Jewish population. When the prominent Jewish merchant, Barabas, protests the levy, the Governor seizes the entire fortune to pay the bribe. The enraged Barabas plans a bloody vengeance that threatens to destroy the island.
Love's Sacrifice: 28 May to 13 June 2015 (Swan Theatre).
Struck by love at first sight, the Duke of Pavia has married the beautiful Bianca. Unknown to him, his best friend Fernando has also fallen for Bianca, and with each day that passes he finds it harder to conceal his true feelings. Ford's rarely performed play is a thrilling revenge tragedy powered by the destructive force of unrequited love.
Volpone: 3 July to 12 September 2015 (Swan Theatre).
Volpone is already a rich man. But he worships gold, he understands greed, and he wants to get even richer. He knows that the bankers and businessmen in the city will stop at nothing to make money … more and more money. Sounds familiar. Former RSC Artistic Director returns to direct Henry Goodman in the title role of Jonson's comic, satiric, angry, timeless play.
Hecuba: 17 September to 17 October 2015 (Swan Theatre).
Troy has fallen, and as the cries die down after the final battle, there are reckonings to be made. The vicious victor Agamemnon has slaughtered his own daughter to win this war. But now another sacrifice is demanded… RSC Deputy Artistic Director Erica Whyman directs Marina Carr's reimagining of the legend of Hecuba in a visceral new play.
Note: Programme produced by The Royal Shakespeare Company. Click here for a downloadable and printable copy of the
RSC Summer 2015 Programme.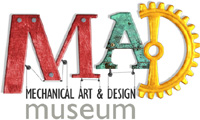 New MAD (Mechanical Art and Design) Museum now Open in Stratford-upon-Avon:
The MAD Museum (Mechanical Art & Design) showcases Kinetic Art, Automata and Steampunk. Located on Stratford-upon-Avon's highly popular Sheep Street, MAD houses an exciting assortment of exhibits which are superbly engaging for all ages. Think Health Robinson mixed with a Scrapheap Challenge and a hotchpotch of futurist mechanisms and then stir it all up with mind blowing creativity and ingenuity. Come and immerse yourself in an eccentric world full of wacky creations, clever design and interactive entertainment!
New Tourist Office for Stratford-upon-Avon:
Stratford-on-Avon District Council in partnership with Stratford-upon-Avon College recently opened a 'Welcome to Stratford-upon-Avon' new tourist office at Waterside, Stratford-upon-Avon. They will include sales of tickets to local venues and provide an important information facility for visitors and tourists. Telephone: 01789 264 293.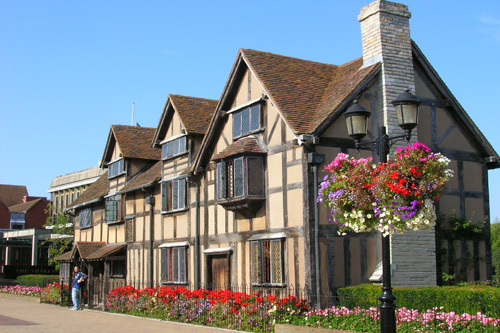 Festivals and Events in Stratford-upon-Avon 2015
Stratford-upon-Avon is a wonderful place to enjoy throughout the year.
Programme of Events for 2015:
- Shakespeare's Birthday Parade (April)
- The River Festival (June/July)
- Stratford Literary Festival
- Stratford Food Festival (September)
- Stratford Races (throughout the year)
- Stratford Fringe Festival (June)
- Rotary Shakespeare Marathon (April)
- Sunday Bandstand Concerts (Summer)
- Stratford Mop (the town becomes a Fairground in October)
- Christmas Lights and Christmas Shopping.
Stratford is a delightful town which can easily be walked around and explored on foot or using the hop-on, hop-off bus service operated by the Shakespeare Trust, who manage the five Shakespeare Houses in and around Stratford..
William Shakespeare's Birthplace in Stratford-upon-Avon - photo by QuinSolve©
For accommodation choices in Stratford-upon-Avon:
SECURE ONLINE BOOKING
B&Bs / Guesthouses in Stratford upon Avon
B&Bs / Guesthouses out of Stratford upon Avon
Hotels in Stratford upon Avon
Hotels out of Stratford upon Avon
Private Houses in Stratford upon Avon
Private Houses out of Stratford upon Avon
Pubs & Country Inns
Farms & Country Houses
Self-Catering Apartments & Cottages
Country Houses outside Stratford upon Avon
Holiday Parks + Camping + Caravanning
Late Availability in Stratford upon Avon