Shakespeare's Stratford on the Web
www.stratford-upon-avon.co.uk
site by QuinSolve :: W - www.quinsolve.co.uk :: E - enquiries@quinsolve.co.uk :: T - +44 (0)1608 664774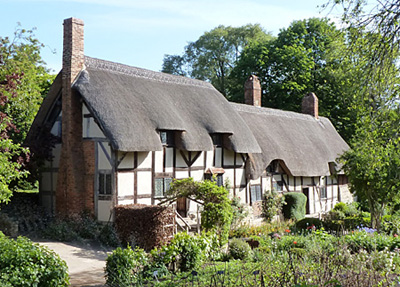 Anne Hathaway's Cottage - Stratford-upon-Avon - photo by
Quinsolve ©
Welcome to Stratford-upon-Avon.
Welcome to Stratford-upon-Avon, the birthplace of William Shakespeare, steeped in culture and history. Set in the beautiful rural Warwickshire countryside, on the banks of the river Avon, it is one of the most important tourist destinations in the UK. With easy road, rail and airport access, it is the perfect place for a vacation or short break. Facilities for conferences and smaller business venues are excellent.
Come wander through these Stratford pages, get a taste of Olde England - and make your plans now. Using the Stratford district as a base, you can enjoy the delights not only of Shakespeare's hometown, but also the nearby surrounding shire counties of Oxfordshire, Worcestershire and Gloucestershire. Enjoy Blenheim Palace and the
Cotswolds
to the south, Worcester and the Malverns to the west, Warwick Castle and Henley in Arden to the north, and all within an hour's journey of Stratford itself.
Here you will find hundreds of pages of information on: accommodation, eating out, drinking and relaxing, romantic breaks, theatres, places to visit - Shakespeare's houses and the beautiful Stratford-upon-Avon with its parks and gardens on the banks of the river Avon. Come visit Stratford-upon-Avon and enjoy our lovely town.
Newly Reopened RSC Theatre.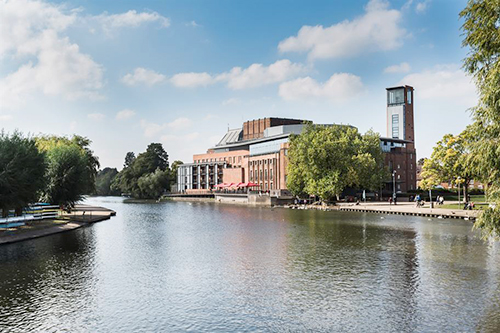 Stratford has just recently enjoyed their wonderful World Festival season and had a very successful season in 2012 for the newly refurbished Royal Shakespeare Theatre.
The RSC theatre has a very busy schedule for the Spring and Summer for 2014 with programmes by Shakespeare and other authors:
- Henry IV part I
- Henry IV part II
- The Two Gentlemen of Verona
- The Roaring Girl
- Arden of Faversham
- The White Devil
- The Rape of Lucrece
- Insights into Productions
- Director Talks
- Family Activities
- Practical Workshops
- Free Open Air Theatre.
If you are planning to visit Stratford plan early especially during special occasions.
See our What's On programme for more details as they become available.
For the current theatre schedule showing at the Royal Shakespeare Company (RSC) which has a full set of programmes throughout summer 2014.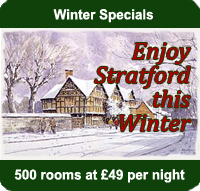 Stratford-upon-Avon has a very rich and varied programme of events and activities see our What's On for 2014 throughout the year: theatres, arts, music in the parks, river racing, river cruising, walks along the river or simply relax and take in the atmosphere that is Shakespeare's Stratford.
Royal Shakespeare Theatre Schedule for Spring and Summer 2014:
Welcome to the Royal Shakespeare Company's Spring and Summer 2014 season with Shakespearean tragedy and comedy, Jacobean satire set in the 1950s and new writing from Mark Ravenhill and Tanika Gupta.
Henry IV Part I: 18 March - 6 September 2014 (Royal Shakespeare Theatre).
With his crown under threat from enemies both foreign and domestic, Henry IV prepares for war. Having deposed the previous king, he is only too aware how tenuous his position is, and the price to be paid if he falters.
As his father prepares to defend his crown, Prince Hal is languishing in the taverns and brothels of London, revelling in the company of his friend, the notorious Sir John Falstaff.
With the onset of the war, Hal and Falstaff are thrust into the brutal reality of the battlefield, where Hal must confront his responsibilities to family and throne.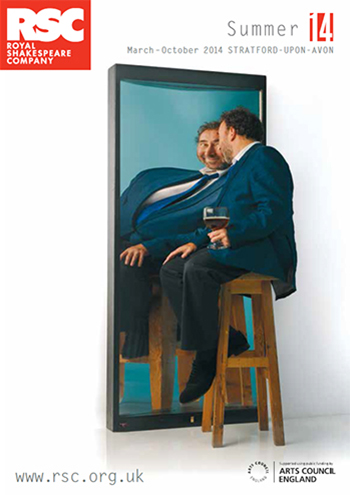 Henry IV Part II: 28 March - 6 September 2014 (Royal Shakespeare Theatre).
King Henry's health is failing as a second rebellion threatens to surface. Intent on securing his legacy, he is uncertain that Hal is a worthy heir, believing him more concerned with earthly pleasures than the responsibility of rule.
Meanwhile, Falstaff is sent to the countryside to recruit fresh troops.
Amongst the unwitting locals, opportunities for embezzlement and profiteering prove impossible to resist as Falstaff gleefully indulges in the business of lining his own pockets.
As the King's health continues to worsen, Hal must choose between duty and loyalty to an old friend in Shakespeare's heartbreaking conclusion to this pair of plays.
The Two Gentlemen of Verona: 12 July - 4 September 2014 (Royal Shakespeare Theatre).
Valentine and Proteus are best friends until they fall in love with the same girl. Having travelled to Milan in search of adventure, they both fall for the Duke's daughter Silvia. But Proteus is already sworn to his sweetheart Julia at home in Verona, and the Duke thinks Valentine is not good enough for his Silvia.
With friendship forgotten, the rivals' affections quickly get out of hand as the four young lovers find themselves on a wild chase through the woods, confused by mistaken identity and threatened by fierce outlaws before they find a path to reconciliation.
The Roaring Girl: 9 April - 30 September 2014 (Swan Theatre).
Sebastian has a problem. He's in love with a girl but his father won't agree to their marriage because her family are too poor. In desperation he turns to the one person who can help him, the fearless and feisty "roaring girl" Moll Cutpurse.
In a London fuelled by greed and desire, the charismatic, cross-dressing heroine Moll has the world wrapped around her little finger. Cutting a joyously independent path through the underhand scheming and petty vendettas of Dekker and Middleton's hilarious city comedy, Moll proves more than a match for any man.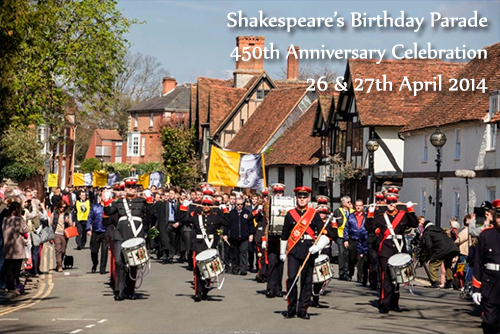 Arden of Faversham: 30 April - 2 October 2014 (Swan Theatre).
Wealthy landowner Arden is convinced his wife Alice is cheating on him. Despite her protestations of innocence, not only is his suspicion correct, but in order to free herself from marriage she is actively plotting to have him murdered.
As Alice grows increasingly desperate to be with her lover, and her husband's ruthless business dealings generate enemies only too willing to do him harm, a series of would be murderers set off in pursuit of the unwitting Arden. Husband, wife and lover find themselves playing a deadly game as with each failed attempt, the assassins close in on their victim.
The White Devil: 30 July - 4 October 2014 (Swan Theatre).
Duke Bracciano is obsessed by the married Vittoria. When he makes her an indecent proposal she can't refuse, she enlists the help of Flamenio to fool her husband, and begins an illicit affair.
But their infidelity does not go unnoticed. Accusations of adultery are made and Vittoria and Flamenio find themselves snared in a web of corruption, passion and retribution as their single minded pursuit of personal gain reaches an epic and bloody conclusion.
The Rape of Lucrece: 23 June - 4 July 2014 (Swan Theatre).
Shakespeare's The Rape of Lucrece is a provocative, politically-charged thriller. In the hands of internationally-acclaimed singer Camille O'Sullivan, this epic poem is brought to life through storytelling and song.
Camille relates the tragic tale of Tarquin and Lucrece, accompanied by an original score performed live by Feargal Murray on piano. Inhabiting their souls she expresses the tremendous range of human experience at play in this dark episode – a story as monstrous as it is beautifully written.
Note: Programme produced by The Royal Shakespeare Company. Click here for a downloadable and printable copy of the
RSC Summer 2014 Programme.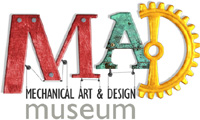 New MAD (Mechanical Art and Design) Museum now Open in Stratford-upon-Avon:
The MAD Museum (Mechanical Art & Design) showcases Kinetic Art, Automata and Steampunk. Located on Stratford-upon-Avon's highly popular Sheep Street, MAD houses an exciting assortment of exhibits which are superbly engaging for all ages. Think Health Robinson mixed with a Scrapheap Challenge and a hotchpotch of futurist mechanisms and then stir it all up with mind blowing creativity and ingenuity. Come and immerse yourself in an eccentric world full of wacky creations, clever design and interactive entertainment!
New Tourist Office for Stratford-upon-Avon:
Stratford-on-Avon District Council in partnership with Stratford-upon-Avon College recently opened a 'Welcome to Stratford-upon-Avon' new tourist office at Waterside, Stratford-upon-Avon. They will include sales of tickets to local venues and provide an important information facility for visitors and tourists. Telephone: 01789 264 293.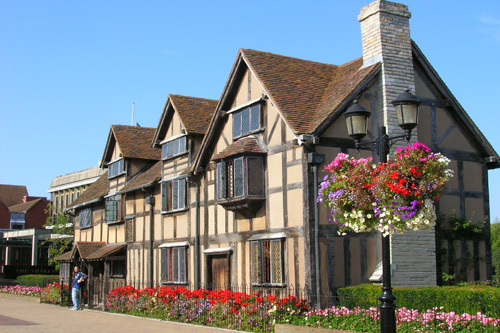 Festivals and Events in Stratford-upon-Avon 2014
Stratford-upon-Avon is a wonderful place to enjoy throughout the year.
Programme of Events for 2014:
- Shakespeare's Birthday Parade (April)
- The River Festival (June/July)
- Stratford Literary Festival
- Stratford Food Festival (September)
- Stratford Races (throughout the year)
- Stratford Fringe Festival (June)
- Rotary Shakespeare Marathon (April)
- Sunday Bandstand Concerts (Summer)
- Stratford Mop (the town becomes a Fairground in October)
- Christmas Lights and Christmas Shopping.
Stratford is a delightful town which can easily be walked around and explored on foot or using the hop-on, hop-off bus service operated by the Shakespeare Trust, who manage the five Shakespeare Houses in and around Stratford..
William Shakespeare's Birthplace in Stratford-upon-Avon - photo by QuinSolve©
For accommodation choices in Stratford-upon-Avon:
SECURE ONLINE BOOKING
B&Bs / Guesthouses in Stratford upon Avon
B&Bs / Guesthouses out of Stratford upon Avon
Hotels in Stratford upon Avon
Hotels out of Stratford upon Avon
Private Houses in Stratford upon Avon
Private Houses out of Stratford upon Avon
Pubs & Country Inns
Farms & Country Houses
Self-Catering Apartments & Cottages
Country Houses outside Stratford upon Avon
Holiday Parks + Camping + Caravanning
Late Availability in Stratford upon Avon