Shakespeare's Stratford on the Web
www.stratford-upon-avon.co.uk
site by QuinSolve :: W - www.quinsolve.co.uk :: E - enquiries@quinsolve.co.uk :: T - +44 (0)1608 664774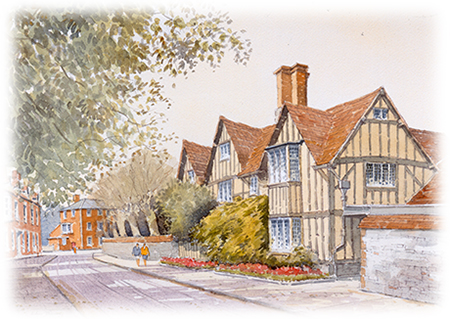 Hall's Croft - Stratford-upon-Avon - a watercolor by John Davis ©
Welcome to Stratford-upon-Avon.
Welcome to Stratford-upon-Avon, the birthplace of William Shakespeare, steeped in culture and history. Set in the beautiful rural Warwickshire countryside, on the banks of the river Avon, it is one of the most important tourist destinations in the UK. With easy road, rail and airport access, it is the perfect place for a vacation or short break. Facilities for conferences and smaller business venues are excellent.
Come wander through these Stratford pages, get a taste of Olde England - and make your plans now. Using the Stratford district as a base, you can enjoy the delights not only of Shakespeare's hometown, but also the nearby surrounding shire counties of Oxfordshire, Worcestershire and Gloucestershire. Enjoy Blenheim Palace and the
Cotswolds
to the south, Worcester and the Malverns to the west, Warwick Castle and Henley in Arden to the north, and all within an hour's journey of Stratford itself.
Here you will find hundreds of pages of information on: accommodation, eating out, drinking and relaxing, romantic breaks, theatres, places to visit - Shakespeare's houses and the beautiful Stratford-upon-Avon with its parks and gardens on the banks of the river Avon. Come visit Stratford-upon-Avon and enjoy our lovely town.
Stratford-upon-Avon Christmas Lights 2023
2023 sees the 40th anniversary of Stratford-upon-Avon Christmas Lights!
Stratford-upon-Avon Victorian Christmas Market 2023
The countdown to the most enchanting event of the year has begun ! The Stratford-upon-Avon Victorian Christmas Market is back, and it's bigger and more magical than ever. The historic streets of Stratford-upon-Avon will, once again, be transformed into a festive wonderland, offering an unparalleled holiday experience for visitors of all ages. Why not join us on the following dates:

Thursday 7th December (12pm to 8pm)
Friday 8th December (10am to 8pm)
Saturday 9th December (10am to 8pm)
Sunday 10th December (10am to 5pm)
Royal Shakespeare Company Theatre.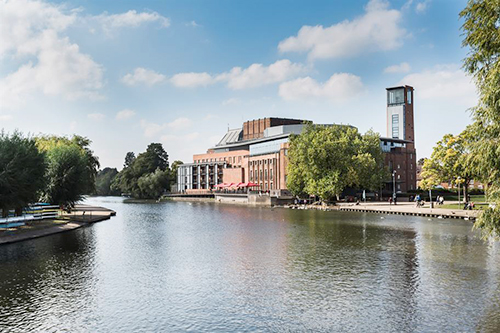 The RSC theatre has a very busy schedule for their Winter/Spring 2023/24 season with programmes by Shakespeare and other authors:

Winter/Spring 2023/2024 (December 2023 - January, March, 2024):
– The Box of Delights
- The Fair Maid of the West
- The Merchant of Venice 1936

Plus Spring 2024 Programme:
– A Midsummer Night's Dream
- Ben and Imo
- First Encounters: Romeo & Juliet

If you are planning to visit Stratford plan early especially during special occasions.
See our What's On programme for more details as they become available.
For the current theatre schedule showing at the Royal Shakespeare Company (RSC) which has programmes from Winter - Spring - Summer 2023/2024.
Stratford-upon-Avon has a very rich and varied programme of events and activities see our What's On for 2023 throughout the year: theatres, arts, music in the parks, river racing, river cruising, walks along the river or simply relax and take in the atmosphere that is Shakespeare's Stratford.
Royal Shakespeare Theatre Schedule for Winter 2023 to Spring 2024:
Welcome to the Royal Shakespeare Company's Winter 2023 and Spring 2024 season with Shakespearean drama and various of other works.
The Box of Delights: Until 7 January, 2024 (Royal Shakespeare Theatre).
By Piers Torday, Based on the novel by John Masefield
After a seemingly chance encounter on a train, orphaned schoolboy Kay Harker finds himself the guardian of a small wooden box with powers beyond his wildest dreams. Caught up in a battle between two powerful magicians, Kay fights to save not just the people he loves but also the future of Christmas itself.
The Fair Maid of the West: December 2, 2023 - January 14, 2024 (The Swan Theatre).
By Isobel Mcarthur, After Thomas Heywood
Liz Bridges might seem ordinary, but it turns out that a life spent lending ears, mending hearts and serving beers has all been in preparation for the ultimate test of her character...
The Merchant of Venice 1936: January 24 - 10 February, 2024 (The Swan Theatre).
William Shakespeare
London, 1936 fascism spreads across England.
Shylock (Tracy-Ann Oberman) a widow, single mother and survivor of antisemitic pogroms, runs a business from her home in Cable Street.
This powerful reimagining is a stark reminder of a key moment in British history.
'If you wrong us shall we not revenge?'
A Midsummer Night's Dream: January 30 - March 30, 2024 (The Royal Shakespeare Theatre).
On Midsummer's Night, the real and fairy worlds collide.
Four young lovers, faced with the prospect of unhappy marriage or worse, flee the court of Athens and stumble into an enchanted forest. Nearby, a group of amateur actors rehearse a play to celebrate an upcoming royal wedding.
As these mere mortals cross paths with a warring fairy King and Queen, chaos reigns in the natural world. The lines between reality and illusion start to blur and no-one but mischievous Puck knows what is true and what is magic.
Let Shakespeare's captivating comedy transport you from deepest midwinter to the most magical of midsummer nights.
Director Eleanor Rhode (King John) returns to the RSC with a Dream that is both epic and intimate, and completely full of wonder.
Author: William Shakespeare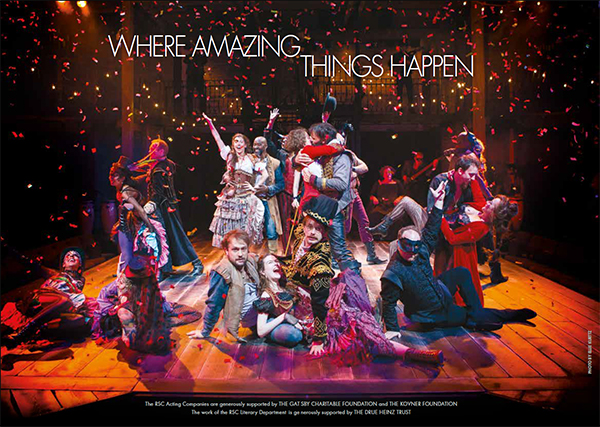 Ben and Imo: February 21 - April 6, 2024.
Mark Ravenhill.
The 1953 Coronation of Queen Elizabeth II is fast approaching. To mark the occasion, Benjamin Britten has just nine months to write a new opera about her predecessor Elizabeth I.
Into the world of the disheartened composer enters the exuberant and passionate Imogen Holst, daughter of Gustav and an accomplished musician in her own right. Her candid and can-do attitude proves to be the perfect foil for the capricious and often maddening Britten, and what begins as an arrangement of practical support turns into a bond that not only sees Gloriana to its premiere but endures throughout the rest of their lives.
First Encounters: Romeo & Juliet: March 21 - 30 2024.
A gatecrashed party. A chance meeting. Love at first sight.
When Romeo meets Juliet, the world around them melts away. But then reality kicks in; their families are enemies, and they will never be allowed to stay together. With the world against them, they hatch a plan to escape the lives they were born into. But fate has other ideas.
Following the success of last year's sell out Twelfth Night, the latest in our series of First Encounters productions makes Shakespeare's star cross'd lovers relevant for a new generation of theatregoers.
This 90-minute version of Romeo and Juliet uses an edited version of the original language to create the perfect first introduction for young people aged 7-13 and their families.
As well as two weeks' of performances for schools and family audiences in Stratford-upon-Avon, this production also tours to schools and theatres around the country from January to April 2024.
Author: William Shakespeare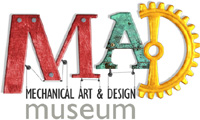 New MAD (Mechanical Art and Design) Museum now Open in Stratford-upon-Avon:
The MAD Museum (Mechanical Art & Design) showcases Kinetic Art, Automata and Steampunk. Located on Stratford-upon-Avon's highly popular Sheep Street, MAD houses an exciting assortment of exhibits which are superbly engaging for all ages. Think Health Robinson mixed with a Scrapheap Challenge and a hotchpotch of futurist mechanisms and then stir it all up with mind blowing creativity and ingenuity. Come and immerse yourself in an eccentric world full of wacky creations, clever design and interactive entertainment!
New Tourist Office for Stratford-upon-Avon:
Stratford-on-Avon District Council in partnership with Stratford-upon-Avon College recently opened a 'Welcome to Stratford-upon-Avon' new tourist office at Waterside, Stratford-upon-Avon. They will include sales of tickets to local venues and provide an important information facility for visitors and tourists. Telephone: 01789 264 293.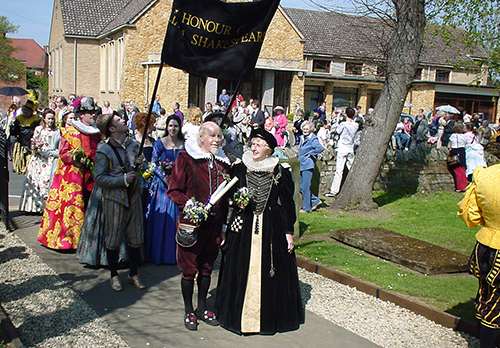 Festivals and Events in Stratford-upon-Avon 2023
Stratford-upon-Avon is a wonderful place to enjoy throughout the year.
Programme of Events for 2023 (will be updated with dates as soon as advised):
- Stratford Victorian Christmas Market (7 - 10 Dec 2023)
- Dragon Boat Race (24 Sept 2023)
- The River Festival (tba July 2023)
- Stratford Literary Festival (2 - 7 May 2023)
- Festival of Motoring (30 April - 1 May 2023)
- Stratford Food Festival (tba Sept 2023)
- Stratford Races (from 13 March - 2 November 2023)
- Stratford Fringe Festival (June)
- Rotary Shakespeare Marathon (tba April)
- Sunday Bandstand Concerts (Summer)
- Stratford Mop (the town becomes a Fairground in October)
- Christmas Lights and Christmas Shopping.
William Shakespeare's Birthplace Parade Stratford-upon-Avon - photo by QuinSolve©
Stratford is a delightful town which can easily be walked around and explored on foot or using the hop-on, hop-off bus service operated by the Shakespeare Trust, who manage the five Shakespeare Houses in and around Stratford..
For accommodation choices in Stratford-upon-Avon:
SECURE ONLINE BOOKING
B&Bs / Guesthouses in Stratford upon Avon
B&Bs / Guesthouses out of Stratford upon Avon
Hotels in Stratford upon Avon
Hotels out of Stratford upon Avon
Private Houses in Stratford upon Avon
Private Houses out of Stratford upon Avon
Pubs & Country Inns
Farms & Country Houses
Self-Catering Apartments & Cottages
Country Houses outside Stratford upon Avon
Holiday Parks + Camping + Caravanning
Late Availability in Stratford upon Avon